To use a quote heard so many times around Hebden Bridge – "I came for the day and never left". Actually, it wasn't quite that immediate but after visiting this queer utopia, within a year I'd left Manchester – which I loved - and was living in Hebden Bridge. I was meeting LGBTQIA+ people left, right and centre, and forming the blueprint for a new Pride with some new friends.
Hebden Bridge, Mytholmroyd & Todmorden: nestled into the sweeping hills of the Calder Valley, a melting pot of art, activism, and queerness, with an aura of the zeitgeist of the 60s. Not a likely scenario for an area equidistant from both Leeds and Manchester, with far more towns closer to those big, bustling multicultural maelstroms. But nonetheless, here we are, seemingly setting an example to the rest of the UK as a blueprint for equality and diversity. Well, not quite. But we're trying. As a member of the LGBTQIA+ community in Hebden, you don't have to look far for an ally, and that feels truly wonderful. The town is visible in its commitment to the safety of everyone, no matter what differences we may have.
What feels different about Hebden Bridge from other towns is its activism and compassion for marginalised communities, and it feels like – whoever you are – people have your back. It's probably because people living unconventional lives have been moving and settling here since the 70s, so unconventional has had a long time for people to get used to it. Hebden feels like it doesn't just tolerate but truly and authentically accepts and embraces the LGBTQIA+ community. Hebden is especially famous for our lesbian community, which goes back over 50 years, and has become a place where LGBTQIA+ identifying people can start families in a safe environment.
The Calder Valley contains some of the coolest venues and bars in Yorkshire. Hebden Bridge has the legendary Trades Club, the beautiful Hope Baptist Church, the Birchcliffe Centre, The Picture House, Nelson's Wine Bar (an LGBTQIA+ staple of the town), Drink, Vocation, The White Lion, The Old Gate (which we cheekily rebrand as "The Old Gay" during Happy Valley Pride) and our diversity-focussed Town Hall, to name just a few. Todmorden's Hippodrome is a gorgeous Edwardian theatre, the Golden Lion & Nan Moor – two of the coolest live music venues in the North are helping to pull Manchester's cool kids from the city to the country, and Mytholmroyd's Community Centre is a hub of community activity.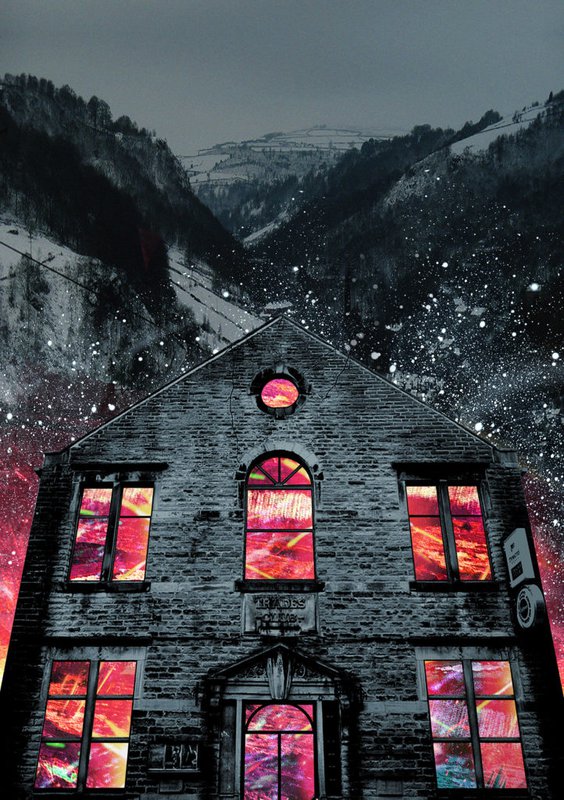 Some of the coolest venues and bars in Yorkshire
The area is home to some incredible queer artists too, including poet Clare Shaw, DJ Kim Lana, Artist Paul Mac, Writer Jen Silver, singer-songwriter Terry Logan, Ruth Neilson, Artist Kiya Major, to name just a few.
It's no surprise that we're starting to be known as a festival town. We've got the famous Hebden Bridge Arts Festival, the Handmade Parade and Lamplighter Festival, Hebden Bridge Film Festival, as well as the well established Burlesque Festival, Piano Festival, Folk Festival, Pumpkin Festival, Iconoclast…and, of course, us!
The message from the LGBTQIA+ community and our allies in this town is undeniably strong.
Now each year, more and more people from across the valley and beyond join us for our 7-day Queer Arts Festival & Pride Protest & Celebration. If you pass through our town during Pride, you'll see the shops, bars & businesses of the town dress their windows in unity. The message from the LGBTQIA+ community and our allies in this town is undeniably strong.
Our community now needs to focus on the wake up call – or scream – that took Black Lives Matter to the forefront of our consciousness in 2020, and on our trans and non-binary family whose very existence is being debated by politicians more than ever before - as though that's acceptable in an equal society. These are the areas our valley needs to give the most love to now, to fight racism, transphobia, homophobia, biphobia hand-in-hand with a zero tolerance approach. We must educate and allow ourselves to be educated. Let's build on our successes and set an example.
Welcome to our valley. You'll meet friends for life here.
By Darren Spruce, Founding Member & Company Manager of Happy Valley Pride